ABOUT THE BLANCO COUNTY REPUBLICANS
GET EMAIL ALERTS FROM BLANCO COUNTY GOP
ABOUT THE BLANCO COUNTY GOP
The Blanco County GOP is an official member of the Republican Party of Texas. Our mission is to support the Republican Party's initiatives on a local level, helping all Blanco County residents benefit from the America First policies of today's Republican Party.
As an official member of the Republican Party of Texas, our mission is:
To promote a conservative philosophy of government:
By promoting conservative principles; and
By providing the infrastructure through which those who share our conservative principles can get involved in the political process, run for and be elected to public office, and govern according to our principles when elected.
Want to become a Republican? Texas does not have registration by political party. A voter becomes a Republican by voting in the Republican Primary or Republican Primary Run-Off.
MEET OUR CHAIRMAN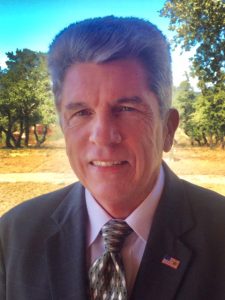 Our county chairman is Al Poteet, a fifth-generation Texan, Vietnam veteran and Army helicopter pilot.
Al is a private and public sector senior executive with a scope of practice that includes government business development and federal affairs management. With over 35 years of practical and wide-ranging experience, he worked as a senior government executive and after retirement from federal service he helped companies design effective strategies to expand their government operations. Based on his management and leadership experience, he assisted companies successfully navigate federal bureaucracies and build personal/professional relationships as a senior executive and consultant.
Mr. Poteet is one of the few Department of Veterans Affairs (VA) senior executives who has successfully worked in VA Central Office (VACO) where he led the Congressional Affairs Office, served as a Veterans Benefits Administration (VBA) Regional Office Director in three states, and later as a state-wide Director of a VA Medical Center.
During his VA career, he held a number of key leadership positions in the Senior Executive Service (SES) for Presidents Reagan, Bush 41, and Bush 43. Poteet served as Associate Deputy Administrator for Congressional and Intergovernmental Affairs and Deputy Assistant Secretary (DAS) for Congressional Affairs. During his tenure at VACO, he worked as a senior advisor to VA Administrators Harry N. Walters and Maj. General Thomas K. Turnage. As DAS, he was a senior advisor to VA Secretary Edward J. Derwinski and responsible for the successful execution of VA's congressional and legislative affairs programs.
As a VA SES field director, he had extensive experience and knowledge of VA Regional Office operations where his leadership and team-building efforts led to numerous executive branch awards. As a VA field director, he was routinely responsible for managing 400 employees with annual budgets in excess of $62M.
As Director of the Alaska VA Health Care System (AVAHCS), his leadership and innovative management style led to the establishment of an award winning VA, Department of Defense (DoD), and Native Alaskan joint healthcare venture known as the Alaska Federal Healthcare Partnership (AFHP). The AFHP improved VA and DoD health care delivery, improved timeliness and increased efficiency, while increasing patient satisfaction winning three national quality awards for the AVAHCS.
In the private sector, Poteet was CEO of Humana Veterans Healthcare Service, responsible for all aspects of a start-up health care referral company. Under his leadership, Humana won the Project HERO pilot contract with the Department of Veterans Affairs, to provide specialty health care to VA beneficiaries in 23 states utilizing 20,000 network health care providers.
Prior to his tenure at Humana, he was VP and COO of a $100 million durable medical equipment company where he managed the day-to-day activities of a JACHO/ISO certified company. His portfolio included Information Technology, Insurance, Customer Service, Managed Care, Call Center Operations, Human Resources, Compliance, and a Nationwide Corporate Sales/Service operation.
In 2001, he was appointed Executive Director of the President's Task Force To Improve Health Care Delivery To Our Nation's Veterans authorized by Executive Order 13214. The Presidential Task Force was established to develop a blueprint to transform VA health care delivery into a seamless continuum of care between VA and DoD for all eligible beneficiaries.
From 1976-1983, he also worked as Assistant Legislative Director for the Veterans of Foreign Wars (VFW) on Capitol Hill, later as Treasurer, and then Director of the VFW-PAC. As Assistant Legislative Director, he rendered testimony before the House/Senate authorizing and appropriating committees.
Mr. Poteet and his wife Miriam reside in Blanco County, Texas and own a small business in Johnson City, Texas. He is a Life Member of VFW Post 2933 and a member of the Vietnam Helicopter Pilots Association. He is a 3-time decorated US Army combat aviator with 2 deployments to the Republic of Vietnam as an attack helicopter pilot with the Air Cav in the 1st Aviation Brigade and 82nd Airborne.
SUPPORT THESE REPUBLICAN CANDIDATES NOW WITH YOUR CONTRIBUTIONS AND ON NOVEMBER 6 WITH YOUR VOTE